Throughout the 70s, two strong industries were buttressing a growing income for Wyo-Ben: 1) Oil/Gas Drilling and 2) Steel.
Both of these industries were affected by occasional unexpected economic cycles. But Keith Brown was aware of this vulnerability, and it seemed a distant risk. Anyway, Wyo-Ben had no control over these external factors, and up-and-down cycles were unavoidable. Internal discussions had explored other income channels to mitigate this risk, but the company reasoned it could survive any economic turbulence.
After all, in 1952, Wyo-Ben was turning out only 15,000 tons of bentonite per year. With a flourishing economy, an increasing need for bentonite, and the opening of two new plants in Wyoming, their capacity had exploded to an amazing 630,000 tons. That was 42 times greater than when they started.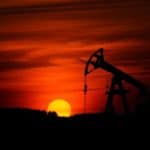 But in 1979, a significant world event shook the foundation of U.S. and world economies: the Iranian Revolution. A resulting energy crisis brought steep increases in oil and gas prices, growing unemployment, a rise in inflation, bank failures, and the Savings and Loan debacle. A consequent economic downturn, the worst since the great depression, was steep and quick. By the fall of 1981, it affected everyone, including major industries like steel, oil, and gas – customers of Wyo-Ben.