A Chance Train Stop in Billings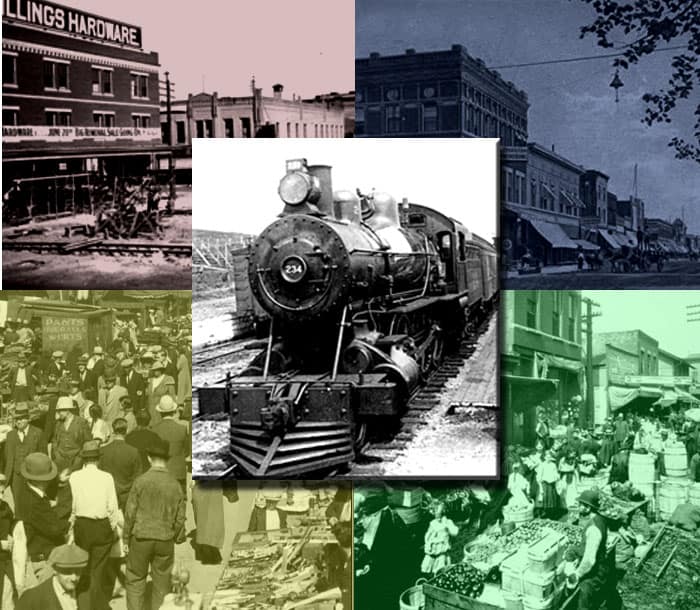 NOTE:  Steam trains were the primary mode of long-distance travel, since interstate roads were still undeveloped. By 1895 several trains a day crossed through Montana. Instead of an arduous 3-month journey by wagon, travel from St. Paul to Helena now took 36 hours and cost $35. Trains going west carried tourists and permanent immigrants. Trains returning east carried affordable agricultural products to the masses.   
By the time the North Coast Limited stopped in Billings, Montana, O.K. Grimstad and Rockwood Brown had already read the promotional brochures and heard frenetic chatter from fellow passengers about this western rail stop. So, both young men wanted to tour it on foot to explore just what all the noise was about.
When they disembarked, they almost had to push their way through the migrating people. But they had, in fact, arrived at a perfect time. 
While its population had been less than 800 people twenty years previous, the city burgeoned almost overnight to more than 10,000, helped by a new train route cutting south from Fargo, North Dakota. This new train line is one reason Billings was being labeled the "Magic City." According to the 1910 census, it was already the sixth fastest-growing community in the nation.
What else caused the huge gain? 1. The "Enlarged Homestead Act" giving a free 360 acres to anyone who would farm the land. 2. A swelling demand for oil and minerals that the Billings area had in abundance.  
This cow-town looked more like a boom-town to Grimstad and Brown. Few had ever heard of its name back east, but it immediately seemed to offer a daring adventure with plentiful business opportunities. And anyway, both men were virtually out of money.
So much for the cities they had also considered: Roundup, Helena, Spokane or Seattle. These 24-year-old men didn't need to look further than Billings, Montana. This was the place they decided to sink their roots. "There's a batch of business here," they hoped. And they were right. 
Neither of them knew it then, but their train-stop would shape the future for thousands of people to follow.
NOTE:  Moving "out west" was often steeped in youthful exhilaration, but advancements in technology also made it much easier for some risk-takers to consider. It was an exciting time to see nearly simultaneous introductions of electricity, telephone communication, automobiles, indoor plumbing with flush toilets, hot water, kitchen appliances, and central heating.
Between 1909 and 1916, plenty of rainfall encouraged the quick influx of potential farmers. All of these factors would change attitudes about migrating west from "foolhardy" to "forward-thinking." 
This vibrant time in Montana history saw booming industrial growth, expansive agricultural development, and a surging population.
It had been eight months since graduating from Michigan Law School. Before heading out west, both men had previously worked a short time as interns in law offices. Both men had built enough confidence to travel west and go-it-alone. And both men, with marginal savings, would do it as business partners.
Coincident with their filing for a new business The Billings Gazette trumpeted the sinking of the passenger ship Titanic. They could only hope that this event did not foretell their own future as they embarked on their own first-time venture. 
With a $200 loan from the Montana National Bank, an empty room on the Acme Building's top floor was rented on February 1, 1912, under Grimstad and Brown Law Office. But clients were not yet knocking at their door, and their income was non-existent. So they had to take some action, or they would have to fold before they even got started. A coin toss decided who would take a job in the Idaho forest to cover their subsistence. 
Grimstad did indeed spend a few months as a lumberjack, while Brown sought out legal business. Then, out of the blue, Brown snagged a high-profile, first-degree murder case that would gradually attract intense newspaper attention. Grimstad returned after only three months of work.
According to the Gazette, "Clarence Douglas, colored, killed Lottie Turner, colored, in the Kentucky Restaurant on South Twenty-sixth street." The article was about a restaurant server who had killed a patron with a butcher knife, and it garnered immediate coverage. It seems that one Lottie Turner, the customer, had complained that she had waited too long for her dinner to be brought to her table. Douglas angrily snapped that he "didn't care if she had waited two hours." Whereupon he turned his back on her and stomped into the kitchen. There he grabbed a long knife and returned to Lottie's booth, where he opened the curtains and plunged the knife into her side. The tip of the blade punctured Lottie's heart, and she died a short time later. An escaping Douglas was quickly apprehended.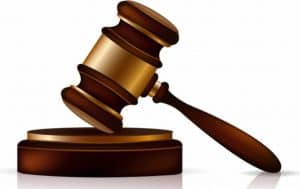 Although "losing" the jury case by obtaining a twenty-year sentence for their client, Grimstad and Brown were secretly delighted by the verdict. Douglas himself said he was "pleased he didn't receive even heavier punishment"…like maybe execution. The general public could read between the lines of Douglas' stated relief.
What a way to bring in more business to a young law firm! But that's exactly what happened.
NOTE:  No overhead lighting or desk lamps are seen in the office photograph above, but electric lighting phased its way into Billings's life after 1912.
With a hopeful assurance of gaining more clients, both men also gathered an optimism to ask their previous lady-friends to marry and join them in their remote back-water town. With an apprehensive pause, both eastern ladies still managed a "yes."
First, it was "Grim" who married the young lady he had met in Ann Arbor. Then, eight months later, Rockwood returned to Richford, Vermont, and sought the hand of a young woman he had known since childhood. But Brown's romantic tale was a bit more newsworthy. 
Miss Betty Hawley, daughter of Vermont's House Speaker, had apparently set conditions on their marriage. She had coyly told Brown that she would accept his proposal only if he were a valedictorian at the Michigan Law School.
Ahhh…OK.
He was.
And now Rockwood came to collect.  
This romantic story was picked up and publicized by many newspapers at the time. In fact, the local Richford newspaper called it "the wedding event of the season." Elizabeth Cleora Hawley and Rockwood Smith Brown were married on October 8, 1913. The newlyweds spent their month-long honeymoon touring by train from Montreal down through the eastern United States before their journey out west.
Another High Profile Case
Probably as a result of the firm's growing reputation, Grimstad and Brown gained another high-profile law case. Involving a "Breach of Promise" claim, this suit would likely never have been filed in the more liberal years to follow. But in 1914, it was another headline case that brought notoriety, clients, and income to the firm.
Charles M. Bair was a widely known sheep baron and the largest landholder in Montana. He was also part-owner of the Billings Gazette newspaper. This tawdry law case found one of Montana's most prominent pioneer's being sued by a young lady who felt betrayed by their affair and his false promises. The case was ultimately settled out of court, and no mention of the settlement was made in newspapers across the state. But it attracted even more attention to the two young attorneys.
Why was this case important? In only the first few years of its existence, the Grimstad and Brown Law Firm had already established a solid financial grounding for its principal lawyers. Both men could start to invest their profits in many other ventures. They would soon take full advantage of their hard work and good fortune.
NOTE:  Although Charles M. Bair was a well-known landowner in Montana, not a word of this high-profile law-case is mentioned in his article on Wikipedia. Even today, a large family museum notes his entrepreneurial legacy to the state.  
While the law practice flourished, so did a newly started Brown family. Together the newlywed Browns rented an apartment on Avenue B. While living there, in March of 1915, daughter Barbara was born. Two years later, they purchased their first house on North 31st Street. Then came the birth of sons Keith and Neal. Still later, Rockwood Junior.
During these years, there were regular visits to and from both families in Vermont, and a year-long visit from Rockwood's mother. For her visit, Rockwood purchased a "mother-in-law" home a few doors north of their own house.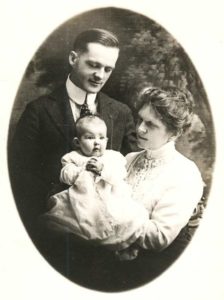 Rockwood also involved himself in the Billings community like the Young Father's Club and the Republican Club. Then he started a Kiwanis Club, becoming its first President. His strong participation in the Billings Commercial Club came next. And later, he was the first president of the Hilands Golf Club.
But Brown was a risk-taker, at least when entrepreneurial ventures surfaced. He and Grimstad had been eagerly searching for other methods to invest their money and use the personal contacts that were becoming more accessible to them. 
NOTE:  In the greater U.S., it was a period of exuberant growth in population, industry, and world prestige. Indeed, these were called the "Confident Years." Confidence was growing for Grimstad and Brown too. Although Rockwood purchased his first automobile during this time, he was often seen in the summer months, walking the two miles to his office. Usually with a flower in his lapel.
Events of Significance During the Period: 1911 – 1920
1911 – Cadillac Eliminates Car's Hand Crank Starter
1914 – Ford Pays Workers $5 per Day
1914 – President Wilson Pledges Neutrality in War
1915- Largest Cruise Liner, Lusitania Sunk by Germans
1916 – National Polio Epidemic Reaches Billings
1917 – U.S. Enters War. Montana Representative Votes No 
1918 – Spanish Flu Pandemic Strikes Quarter of U.S. 
1919 – 18th Amendment Ratified Instituting Prohibition
Inventions and Fads: The Zipper, Oreo Cookies, Stainless Steel, Pop-Up Toaster, LifeSavers